Live Long Distance Fiddle Lessons using Zoom
Jeff Brent - Fiddle Teacher
California, USA
E-mail me for Fiddle Lessons!
Fiddle
Beginner thru Intermediate
Bluegrass, Cajun, Country, Irish,
Indian Classical: Hindustani, Carnatic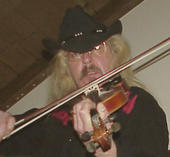 Below is a video of one of Mr Brent's fiddle students.

Rachel took her very first music lesson from Jeff just weeks after turning 8 years old.
This performance was filmed less than a year and a half later!
She is accompanied here by banjo, guitar and bass.

Rachel Rotarius

Bluegrass Fiddle

3:12 © MMVIII

Jeff is the author of
these violin books:



Back to Jeffrey-Brent.com home